Introduction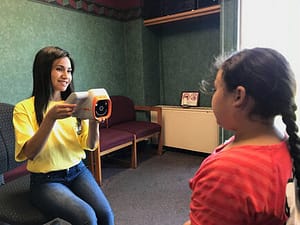 The District 50 Hawaii Lions are comprised of over 1600 men and women in 60 Clubs throughout the State. Hawaii Lions have been providing free hearing and vision screenings at elementary schools throughout Hawaii since 1995, when the State Department of Health's annual screenings were discontinued for lack of funding.
The free screenings are conducted on the islands of Kauai, Oahu, Molokai, Maui, Lanai, and Hawaii, by trained Lion volunteers providing a standardized, systematic program based on current best practices for elementary students in the State of Hawaii. Both the Lions Screening Programs (hearing and vision screening) have been upgraded with state-of-the-art instruments providing improved screenings in a fraction of the time that it took in the past. Only students who have parent consent are screened.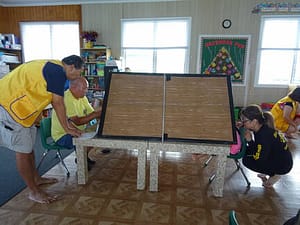 For those students who are referred for further attention to vision or hearing needs, and whose families are under-insured or uninsured, the Hawaii Lions Foundation (HLF) has the Helping Children See (HCS) Program. For those eligible, the HLF through the HCS program, is able to supplement the cost for an eye exam and a pair of glasses.
The Helping Children See Program (HCS) is funded by the Hawaii Lions Foundation specifically to purchase eye examinations and eyeglass for needy children identified through a Lions Vision Screening Program. HCS enables parents to better prepare their child for success in school. Uncorrected vision can severely impact a child's ability to learn. The inability to benefit from classroom instruction can have life altering consequences. The Lions of Hawaii have had a long and proud history of Vision Screening. With HCS we can now close the circle by offering not only vision screening but also a referral to a professional eye care provider and ultimately fulfillment by providing glasses for those children who are under insured or not insured at all.
Program Goal
The goal of the statewide Lions screening program (hearing and vision), is to identify students most likely to have vision or hearing impairment that may affect their academic, social or personal development. The focus is on early detection, screening children who are in preschool and in grades K, 1, 3, 5. Many of the Lions clubs have responded to requests for whole-school screenings.
DONATE TO HAWAII LIONS FOUNDATION
Your charitable gift to the Hawaii Lions Foundation helps support our service programs. To mail in your tax deductible donation, simply send a check to:
HAWAII LIONS FOUNDATION
405 N. Kuakini St. #801
Honolulu, HI  96817
DISTRICT 50 HAWAII LIONS OFFICE
Executive Secretary:
Phone: (808) 755-9998
Email: [email protected]
MAIL TO:
405 N. Kuakini Street #801
Honolulu, HI 96817