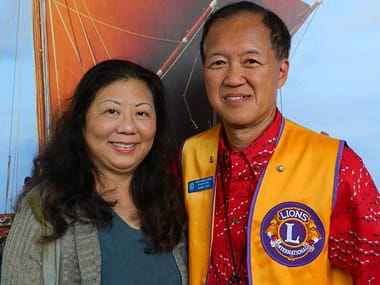 Visit the Convention Website to obtain the Convention Promo Pack
http://hawaiilionsconvention.com/
Aloha fellow Lions, Companions in Service (CIS), Leos and guests
I MUA Let us move forward together and celebrate a year of service at the 87th District 50 Hawai'i Lions Convention.
The Convention will be at the Ala Moana Hotel in Honolulu on April 27 through 29, 2023.
Mahalo to the convention planning committee led by Co-Chairs Lion Shasta Yamada (Koko Head Lions Club) and Lion Tad Tsuruma (Pearl City Lions Club). The committee is planning a fun, inspiring, and educational celebration.
We are excited to welcome our Lions International Director (ID) Allen Snider and his Companion in Service Lion Susan. ID Allen is a highly sought-after speaker at District Conventions, so mahalo to ID Bob Lee for making the arrangements.
To keep the cost affordable, the committee has worked hard to secure nearby venues for evening events. To keep transportation costs low, we are planning to have Oahu Lions provide rides for our neighbor island Lions.
We are happy that our Leos will be in attendance to join the fun. New this year, Companions in Service who are not Lions will be able to attend sessions with CIS Joyce Nip.
We invite you to join us for a FUN weekend to meet old acquaintances and make new friends. Learn about Lions. Most of all rekindle your passion and be proud to be a Lion dedicated to the service of others.
Lion Gary Nip and CIS Joyce Nip
District Governor 2022-2023
District 50 – Hawaii